Are You looking for the best trimmer! don't worry! here you get the best quality trimmer under your budget. In this blog, I explain Vega T3 Trimmer Review in detail.
Vega is one of the most reliable company in India. Vega t3 trimmer is also good for its build quality and its working performance. It gives different types of adjustment settings from 1 to 10 mm so that you can set your beard style as you required.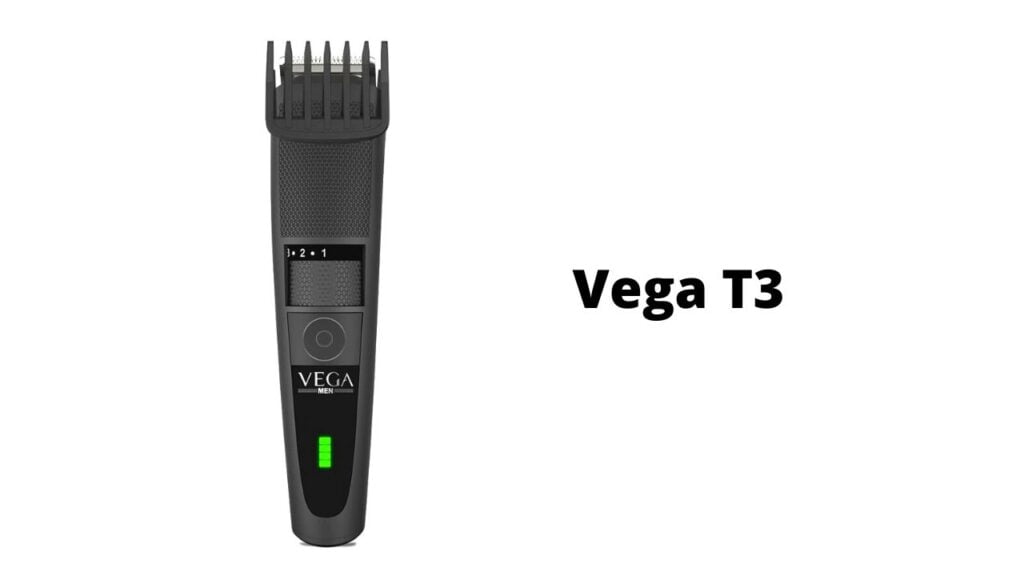 Stainless blades are more flexible for smooth cutting. it provides 90min run time so that there is no issue for quick battery down and you can take time to make your beard perfectly trim and looking a handsome guy.
The USB port is also available for charging that trimmer so you can use your mobile charger, or power bank, or laptop. it also comes with a dual voltage capacity which makes it an efficient choice. It comes with a detectable head so cleaning is so easy. One of the best things is that 1 year warranty period comes with that product.
This blog is all about Vega Trimmer Review (Model T3) hope you like it.
| | | |
| --- | --- | --- |
| | | |
| | | |
| | 1 to 10 mm 20 length settings | |
| | | |
| | 90 minutes charging with any usb cable | |
| | Non stop 90 minutes run time | |
| | Detachable head for easy cleaning | |
| | | |
| | | |
| | | |
| | | |
| | | |
Specification
Let's discuss the specification of Vega T3 Trimmer review in detail one by one :-
Color
This Vega T3 is only available in black color. So if you are looking for another color then you can look at another vega model.
Blade
The most important part of the trimmer is the blade quality which is very good because of the stainless steel that gives you a protective trimming after a long time also the trimmer blades are lighter. The Skin-friendly blades with rounded tips help for preventing potential skin irritation. The Self sharping blades are skin-friendly and more flexible than other blades.
Length setting
The length setting of Vega T3 is from 1mm to 10 mm. This trimmer gives you 20 different length settings. This trimmer is very premium for small, medium, and lengthy every type of beard style. You have the freedom to style your beard according to your face shape. By judging your hair length you can select your length settings.
Comb
This Vega T3 Trimmer gives you only 1 detachable plastic comb for all types of shapes which is acceptable in this price range I don't think this feature is available in another trimmer in this price range. If another brand gives you this feature then you can pay extra for this.
Charger system
The usb charging cable is available with this product. It does not take long time to charge the trimmer. It takes less than 2 hours for a full charge. You can also use your power bank or adapter(5v) for charging the trimmer. Quick charging is available which doesn't take enough time.
Washable head
After cutting the beard hair so many times we face a problem cleaning properly the trimmer. The thing happens that hair enters into that face part of the trimmer and we can,t remove it from that side. As a result, the working performance slows down. Many times we face that problem.
But don't worry here you get a detachable head so cleaning is now so easy. This Trimmer is washable under water easily without facing any problem. You also use cleaning oil and brush for better cleaning. Also, these two item comes with this trimmer box.
Battery & Lighweight
After full charge it provides you non stop 90 min run time .it is lightweight and easy to carry everywhere.
Led indicator & Warranty period
When you plug on the switch it will display the charging level on the LCD display. After a full charge to the battery down it will reminder you of the battery level. The Warranty period of this trimmer is 1 year which makes this brand premium.
Overall this trimmer is a good option in this price range. It gives you all features which a consumer wants. So for me, it is a good buy. If you want to look at other premium options then you can read Top 9 Best Trimmer Under 1500 at Now.
FAQ
Is Vega trimmer a good brand?
Yes, Vega is a good brand if you are looking at a budget also some time vega budget segment trimmer far better than other brands.
Is Vega an Indian brand?
Yes, Vega is an Indian Brand founded in 1995.
We conclude only the best product which is worth for money. The process of picking a product is first comparing with each other then the second steps is price (is value for money or not) then we select the products. The Comparision bases on their features.
Also Read This Posts