Like we all know beard enhances men's look and gives a nice face cut. Most people are busy with their work and have limited time to go to the salon for a haircut or set the beard that's why it becomes the most important grooming device. Trimmer helps you to improve your looks yourself and also you will not reliable to other for grooming. So finally started talking about How to use Trimmer I will all explain the steps in brief.
Trimmer gives you the freedom to cut your beard any time also you can do experiments on your looks. Follow these steps of How to use Trimmer.
1. Choose a Best Trimmer for you
It is the most important step so please when you buy a trimmer then focus on your need rather than the brands Because maximum brands in the market provide good quality trimmer. Select your Trimmer according to your need.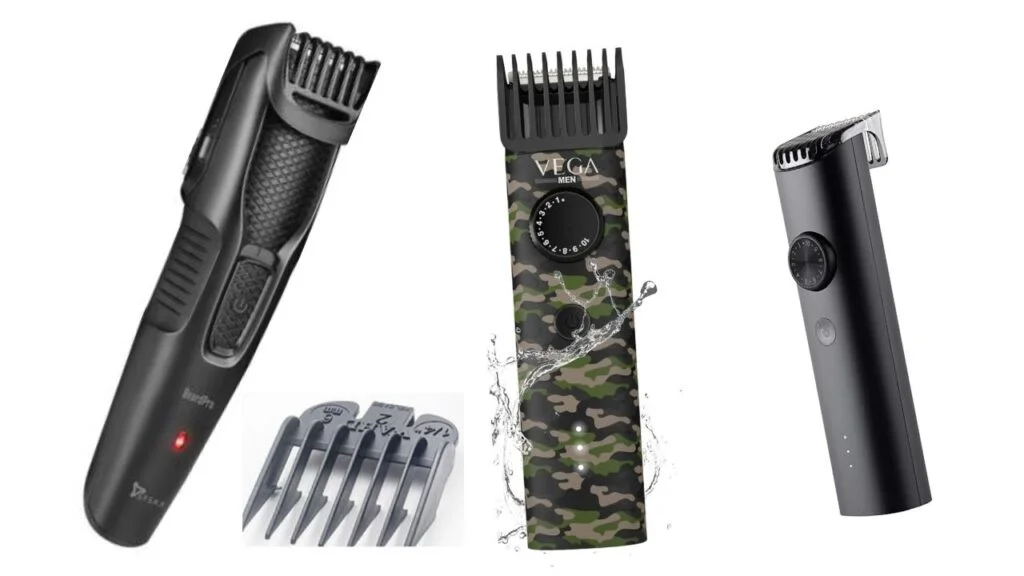 Research and compare trimmer with another brand help to find out the best trimmer.
Compare prices with other trimmers because a lot of brands provide numerous features with low prices which saves your pocket.
Check the warranty period of trimmers.
I strongly recommended you choose a fast chargeable Trimmer.
Also, check the Blade Quality.
These steps help you to choose the best trimmer. If you have to save your time then you can read this article Best trimmer In India here I explain 14 best trimmer which is currently available in the market after so much of research, comparison, and feedbacks.
Check the length Settings
When Choosing a trimmer make sure that the trimmer is available with a different length setting which helps to try a different style. Length Setting comes with Zoom Wheel, Adjustable Comb, Quick Adjustable Dial, Precision Dial, etc.
2. Clean the Trimmer Properly
Clean is very important for trimmer good performance. Regular cleaning helps to increase the efficiency of the trimmer also It can increase your Trimmer life. Here I explain all steps for How to clean Trimmer in this article I solve all the queries about cleaning a trimmer in detail.
Clean your Trimmer all accessories for your personal hygiene also I strongly suggest you don't share a trimmer with anyone.
3. Dry Before Use It
Wet hair cutting is very difficult and challenging sometimes it's very painful so please don't do that I don't suggest you do this.
First, dry your hair properly you can use a towel or you can use a hairdryer .
After first step you can apply the trimmer for cutting the beard.
Simply follow these steps properly It helps you improve your beard-cutting experience.
4. Cutting Tips For How To Use Trimmer
Tip no. one Before cutting the hair check the trimmer blade. If any type of rust you find in the blade then don't use this blade change this blade to the new one.
Tip no. two Lubricate your trimmer blade properly and then run the trimmer for at least 2 min. You can use any lubricating oil it gives you a smooth performance.
Tip no. three I suggest you start cutting your hair with the smallest length setting and then set it to your desire length. Try this it helps you a lot.
Tip no. four Hold trimmer in an upward direction. If you try to cut a perfect beard then watch the video properly it helps you a lot.
Tip no. five Apply the trimmer slowly in upward motion don't use it like a bullet train it causes cutting the skin or damaged skin. Fast trimming is the reason for scratching the skin so please avoid this.
Tip no six starts the trimming where the hair amount is excessive and then moves to the smallest section of hair it helps you to trim hair evenly. Same this can be applied with head hair.
Tip no. seven after cutting the hair clean the trimmer.
Hope you solve all dough from this post on how to use the trimmer. If you have any doubts about this topic you can freely comment I will reply to you as early as possible.
FAQ – Frequently Asked Questions
Should we use trimmer on wet hair?
No, Don't even think to do that first dry your hair properly then apply a trimmer. I explain this question in the article above.
Is Trimmer is better than Razor?
For me, these two comes with their own specialty but I choose one then it's definitely a Trimmer because we can use a trimmer anywhere it takes a very short time to cut the hair but in another hand, the razor is used for body hair removal and clean shaving we don't have the option of length setting but Trimmer has.
Does Trimmer Damage Skin?
No, Trimmer never damages your skin but it depends upon individual how they are using a trimmer. If they use a trimmer like a bullet train then you are responsible for yourself applying the trimmer slowly.
Difference between Trimmer and Shaver ?
Trimmer comes with different length settings but Shaver is used for clean shaved. Trimmer gives you an option of various style cutting.
Can I change the blades?
Yes, You can change your blade after a long time of use. Mostly you can use a Trimmer blade for 1 year at least.
How do Know that the trimmer is charged fully?
Most of the trimmers come with a LED Indicator and Digital Display which shows the charging level also alerts when the charge is full.
Also Read This Posts