Over the years the Television market evolves with many features and technology at a good price so everyone can afford it. But one question that arises with time is Soundbar vs Home Theater which is best.
If we talk about recent times there are many types of televisions that come into the market like LCD, LED, Android, 4k, Curved Display, QLED, 5K, etc.
There are a lot of options available in the market but concern arises is the sound quality because day by day Televisions are getting thinner. Its obvious sound quality suffers for this.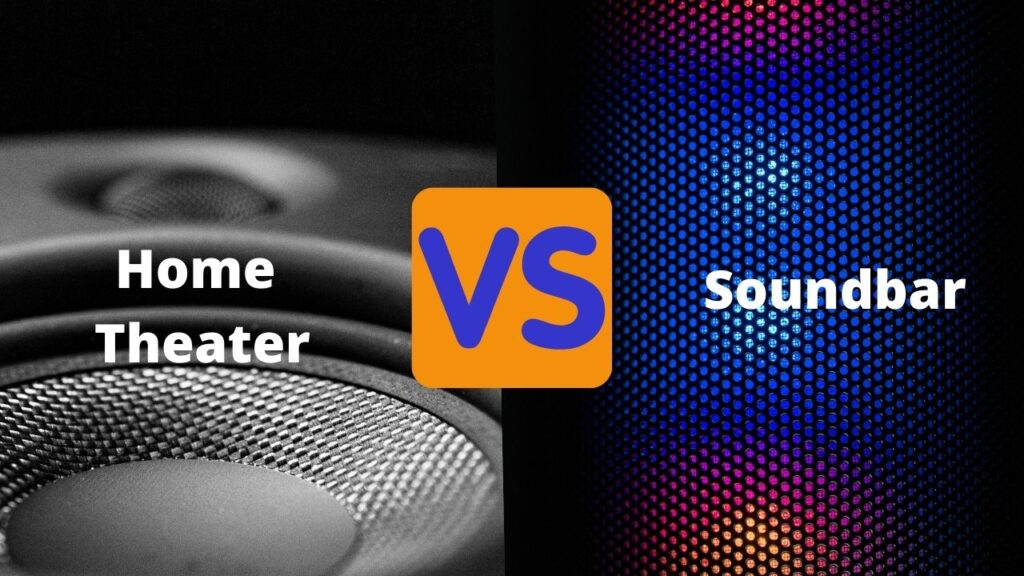 This problem always occurs with mid-range Television. If you are buying a luxury Television then don't worry maximum luxury budget Television comes with the latest sound system technology.
But if you are a buyer of mid-range Television or low range Television then one question always rotated in mind is should I take any external sound system or Do I really need a soundbar or Home theater? Yes if you belong to this low and mid range Television.
From the previous stanza, one more question arises which External Sound System is better . There are two types of sound systems.
Soundbar
Home Theater
Lot of people are confused over Soundbar vs home theater which is better. Let's discuss which is better from all aspects or worth for money. First we need to understand soundbar and home theater.
What is a Soundbar?
A soundbar is a compact speaker which is very common on the Internet but nobody explains the right definition for Soundbar. A soundbar is a multi speaker Bars that produce rich and immersive sound. After this line, you are absolutely shocked and think what was that. This was the actual definition of the soundbar. Nothing extra in this. Why are people looking for a Soundbar? There are two conditions where people is looking soundbar
They don't have enough space for a big home theater.
They don't want to face wire management problems (tangled wire problem).
If people are looking for a clean Tv setup then a soundbar is a good option for them. But Soundbar comes with some little ignorable demerit which I will discuss further in this article.
What is Home Theater ?
Home Theater is a connection of multiple speakers with one Subwoofer. It's a simple definition of Home theater. Is Home theater worth it or not in today's generation? Is absolutely yes home theater worth it in today's generation because the power output of Home Theater is always better than Soundbar. If we want that much power output in the soundbar we pay double. Which is worth it or not discussed further in this article. Let's start with our topic which is Soundbar vs Home Theater which is best.
Which is better between Home theater and Soundbar?
First, if you want premium sound quality at a low price then definitely go with Home theater but if you are struggling with space or don't have enough space then go with Soundbar.
Low Budget Home theater gives you all the modes that you want for your home. If you are a music lover or you want to feel like theater at home on a minimum budget then this is a good option. It's worth the money. But If you need a clean look then Home theater does not provide that much clean look that soundbar provides. If home theater wires are all inside the wall then you blindly trust home theater Nothing is better than that.
But one thing always keeps in mind is if you are buying a low budget soundbar which is not the best then the output of the soundbar is also below average. So if you are looking for a soundbar always pick the best in class soundbar.
If you want to buy a soundbar then increase your budget and buy the best above all. It's the best option above all.
Before comparing Soundbar vs Home theater let's see the pros and cons. Let's start with soundbar:-
Pros of Soundbar:-
It takes less Space.
The weight of the Soundbar is very low compared to home theater.
Looking Good With TV
No Wire Problems.
Easy to Control.
Cons of Soundbar:-
The surrounding sound is average.
Expensive (if you want great sound Quality) .
Pros of Home Theater:-
The surround sound is very premium.
Value for money.
Sound quality is premium . No doubt Soundbar sound quality is also premium but Soundbar is a little expensive.
Cons of Home Theater:-
The major problem is wire tangled with each wire which is very irritating.
Home theater never gives a clean look.
High Power consumption.
After these pros and cons, I came to the conclusion that if you want a clean looking Tv set then buy a premium quality Soundbar. If you don't have a budget for a soundbar you can choose a home theater.
All the points are accurate like bull's eye but a lot of people have confused which is better soundbar or Home Theater. Let's go deeper into this topic and talk about all the features of this and compare in this. First, take power output.
Power Output
The Power Output of home theater is very high compared to Soundbar. But it doesn't mean that the soundbar does not produce that much sound. Sound Bar is also produced but the price of the soundbar is a little High compared to Home Theater.
Weight
The Home theater weight is always high if you compare it with Soundbar. Also, the cleaning of the soundbar is far easier than the home theater.
Technology
Both Soundbar and Home theater come with different types of sound technology like Dolby atmos. It depends on companies what they provide to you.
Response
The frequency response of the soundbar and Home theater is premium. One difference in this is if you want a good Frequency Response in the soundbar then you need a budget. Otherwise, both are good.
Connectivity
Both Soundbar and Home Theater Speakers come with multiple connectivity options. ( HDMI, Bluetooth,…etc).
Also Read This Posts