Hello, Welcome to my blog choosing the best trimmer for men in the market is very difficult because in the market there are several brands that come with a lot of reputation in the market like Philips, Havells, Vegas, etc.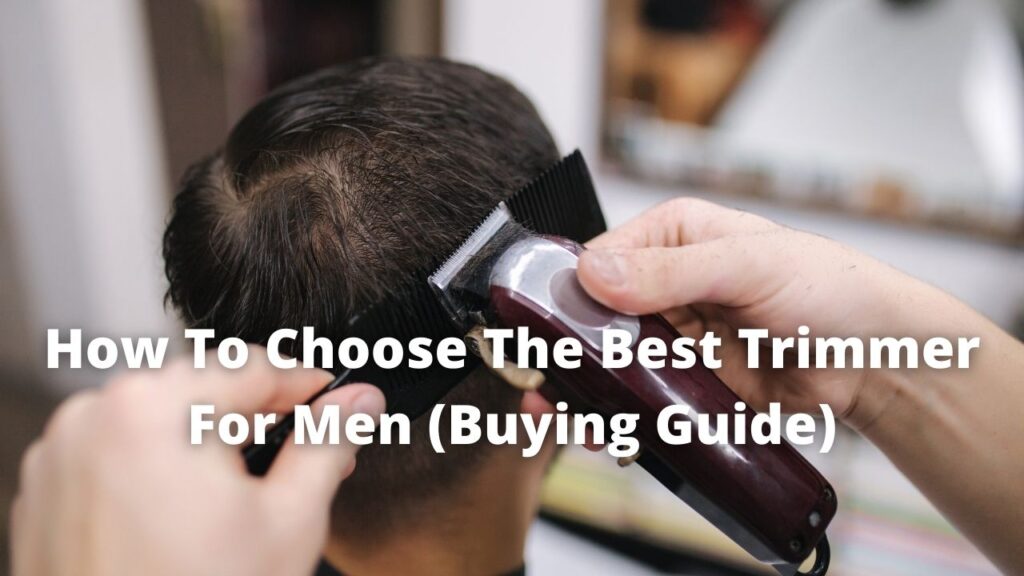 The most confusing factor of choosing the best trimmer for men is one brand launches different models with the same feature but it comes at different prices. So, people are in mess with this they think that if the trimmer price is higher then it is the best option but in reality, it's totally a marketing strategy that they use to sell their product. If you check the specification of these you see that no difference in their trimmer but you definitely see the price difference. Also, you can see same product specification comes with two different body styles.
When you buy a trimmer some factors keep in mind which I explain further in this blog. When you buy any product first think about what you need or expect from this product then choose. A lot of people buy a product not according to their need to first decide what you need then search after that compare with other product and then buy.
It is a golden rule when we buy any product, not a trimmer any product understand your need and then take action. It saves a lot of money and time. If you don't know what factor to keep in mind when buying a trimmer then let start with the first and important factor of the trimmer which I suggest don't ignore especially the first point.
Factors of choosing the Best Trimmer For Men
1. Blade Quality
If you interested to buy a trimmer then it's the most important factor to keep in mind. When buying a trimmer first check the quality of the blade then decide. The Quality blades matter a lot because bad quality does not give you a flow less cutting also causes more complications when trimming a beard.
If you know the cheek skin is more sensitive than any other part of the skin so the quality blade is not a requirement it's a must. If you use a bad quality blade then it causes various types of skin infections.
So make sure when buying a trimmer the blade is made up of Stainless steel. Stainless steel is more skin-friendly than any other. So I recommended you to give higher prior to the Stainless steel blade.
If you want to buy for long-term use then the stainless steel blade is good for you because in stainless steel blades you may not face the rusting problem which is the main problem when we talking about a blade.
Some points in not discuss above which are skin infection depend on several other factors like hygiene of trimmer. I strongly recommended not share the trimmer with anyone.
2. Battery Life And Charging
Battery life is also one of the most important aspects especially when we talk about trimmers. Great Battery life trimmer gives you a long duration of cutting without facing any difficulties.
Sometimes when we trim a beard suddenly the trimmer power is down because of low power hair is stuck inside the blade which feels weird and painful experience I don't think no buddy want to experience these feeling. So when buying a trimmer focus on this factor.
In today's generation, everybody is busy with their work no one has much time to spend on. So everybody like the fast charging technology also in recent times its a very common feature. Fast charging technology growing very quickly among peoples everybody wants this feature.
Most Brands Know that fast charging technology is a need of today's young generation. If you notice one thing in every brand advertise or marketing focus on fast charging because they know what the young generation wants. Everybody wants to save their time and invest their time in other productive work.
3. Length Setting
The third most important factor is length setting if you want to be stylish then you want a different length setting otherwise you aren't able to try different styles. If you are a person who interests to try different styles this factor is crucial for you when buying a trimmer.
Length Setting is most common every trimmer comes with this feature very few trimmers are there which are not coming with length setting. This feature comes with a different name like adjustable dial, Zoom Wheel, Rotating Slider, Rotating Wheel, or so on.
If you want a trimmer then check the trimmer comes with a minimum of 10 different length settings which helps you to try different styles. Also, check the range is from 1 mm to 10mm.
4. Build Quality
When you buy any product one of most important factor are build quality in every electronic device. At last build quality decide how long the device run. So when you decide to buy a trimmer this factor keeps in mind.
Good Build quality gives you a premium grip which makes a trimmer easy to hold. If you have not more budget then this factor is most important to focus on because most low budget trimmer comes with the cheap build quality.
5. Weight of a Trimmer
Weight is not an important factor but I include this because a lot of people has complained about when they trim 4 to 5 min after that their wrist was starting paining it's because of only the weight of trimmer. It, not a major problem but I include this lot of people have faces problems when they trim.
If the weight of the trimmer is lighter then this problem is solved and you can comfortably trim your beard easily without facing any obstacle. So when you buy a trimmer check the weight of the trimmer.
6. Easy to Clean
The most important factor of the trimmer is cleaning because usage of an unclean and dirt trimmer can cause various skin infections and irritation. So when buying a trimmer check the cleaning process of a trimmer always buy a trimmer that is easy to clean and make sure that the trimmer is easy to clean.
Read also:- How to clean a trimmer
Here I compare two trimmers which almost have the same feature but the difference is the price they both are the best trimmer for men no doubt in this. So let's understand the table:-
| | | |
| --- | --- | --- |
| Feature | Havells BT9005 | Philips BT3211/15 |
| Wireless | Yes | Yes |
| Fast Charging | Yes | Yes |
| Charging Time | 90 min | 90 min |
| Length Setting | 19 Build in Length | 20 Length Settings |
| Length | 0.5 mm to 10 mm | 0.5 mm to 10mm |
| Working Time | 50 Min | 60 Min |
| Build Quality | Good | Decent |
| Price | Under 1500 | Under 1800 |
Best Trimmer for Men Havells BT9005 vs Philips BT3211/15
I hope you understand that the same feature is available in other brands. If you are not a choosey brand person then definitely you find a better trimmer according to your need.
If you don't have much time then don't worry I will help you to find the best trimmer in India here I explain the top best trimmer in detail. You can find trimmer easily among this according to your need.
One thing always keeps in your mind is never buy any product which not satisfy your need choose the product according to your need. Every individual has their own parameter so find your need and then buy.
Also Read This Posts